With the vast array of on-screen superheroes, you'd think we were in the middle of a renaissance. Sadly, I haven't felt that way until recently, with the screen debut of
Ant-Man and the Wasp
in 2018.
Here's the thing: since Tim Burton's
Batman
in 1989, live-action comic adaptations have tried to be "grounded in reality", with varying levels of success. But for me the successes have been "nice try" at best. At worst, they've been horrible failures.What they fail to do is capture the sense of excitement that you feel when actually reading a really good comic book. And to find a really good comic book, you're going to have to go back a couple of decades, as this live-action miasma has wended its way back into the parent medium in recent years.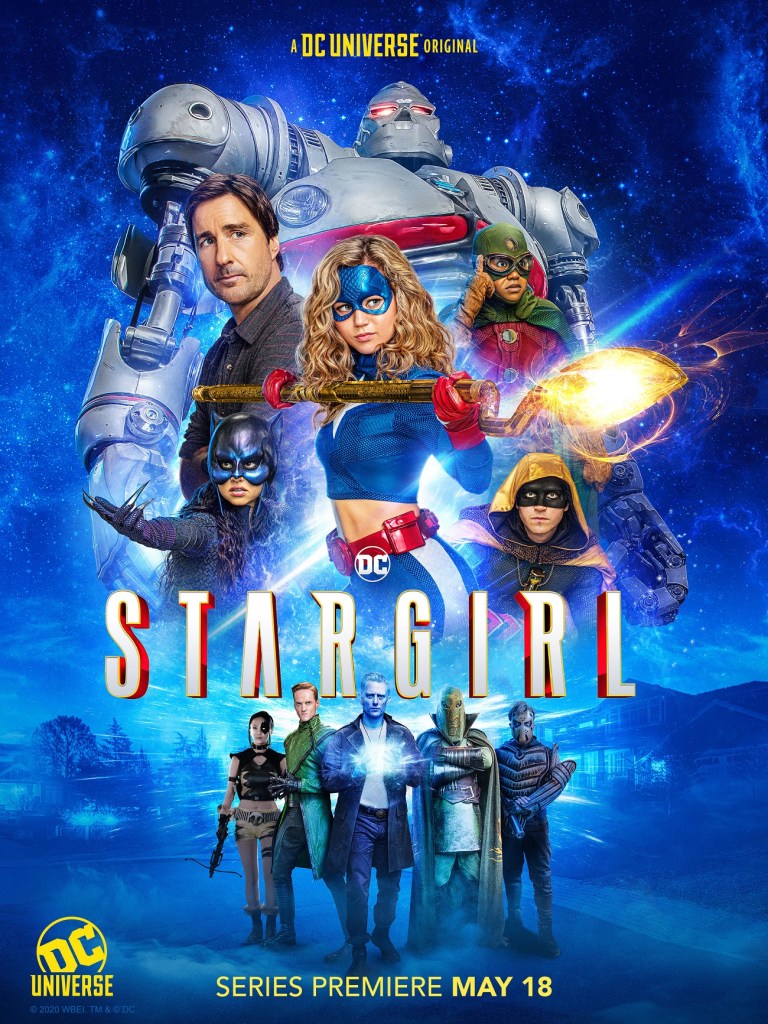 Historically, Marvel has been better about their live action adaptations than DC, which is a shame since I think DC has the better characters. DC, on the other hand, has been producing superior quality animated series and movies for some time now. When watching a DC animated movie I've often found myself asking "why don't they do
this
in live action?" Instead, for the most part what they've done is bury mediocre material under layers of leather, armor, and bad CGI. The best comic book heroes are not encumbered with such things. They are larger than life.
What I like about
Stargirl
-- and I'm having to judge it by the first episode alone, not being a privileged critic -- is that it is unashamedly comic book material, with no excuses. It gets in there, gives you an origin story, a backstory, and jumps right into the action. One episode. Why? Because nobody reads comics for the origin story. You have to have it, yeah; but you just get it out of the way, usually in a few panels or at the most one issue. What Geoff Johns has done is take something that he knows very well -- comics -- and scripted it into television format.
In this one pilot episode you know who the Justice Society of America (JSA) were and what happened to them. You know who the bad guys are. You know who the new heroine (Courtney Whitmore, played by Brec Bassinger) is going to be, and you how perfectly ordinary her "known world" is. You know that she has some skills already (she's an aspiring gymnast, and the boxing gloves in her room hint at at least some training in pugilism). You're introduced to the mentor (Pat Dugan, played by Luke Wilson) and to the magical item (Starman's Cosmic Staff). And you take your first step outside of the known world. Time to get this Hero's Journey underway.
I have no doubt that paid critics are going to blast the series for the speed at which this happens. Pay no attention to them.
This is how comics are done.
Pay no attention to their subtly racist prattling about Courtney being a "generic blonde girl". Physically, the casting of the lead is perfect (go ahead and compare). The casting of secondary characters likewise. Casting comedic actor Luke Wilson as Stripesy was inspired. He brings just the right touch of innocent acceptance to the role, leading to a moment of gravitas that somehow manages to be poignant and genuinely funny at the same time. And though I really don't want to go into spoilers here, I adore the fact that the Cosmic Staff is not just an artifact, but a character in its own right.
This is pretty hard to spoil anyway. There are some things you're able to glean from the poster alone. You know that there will be a new Justice Society. You know that they will be young and multi-ethnic, and you know on first meeting who they're going to be. But knowing that stuff in advance doesn't ruin the story for me. I'm just jazzed somebody finally decided to bring actual high-quality comic book fare to the small screen without miring it down with an entire season of origin story and angst. Do you hear me,
Doom Patrol?
Titans?
In my opinion, this pilot does for superheroes what
The Orville
did for Space Opera. It's a great start. Let's hope they don't screw it up.
Stargirl can be seen on The CW and on DC Universe. Give it a shot.